There are times where an Agenda Item needs to be moved or copied for a future meeting. Maybe an Agenda Item is delayed and need to be moved to the next meeting, or maybe you have an item you know is going to appear on several future meetings and you'd like to have a copy to use elsewhere.
Moving An Agenda Item
From within an Agenda, expand the item you wish to move. In this example, we're going to move the "Scouts" Award" to another meeting.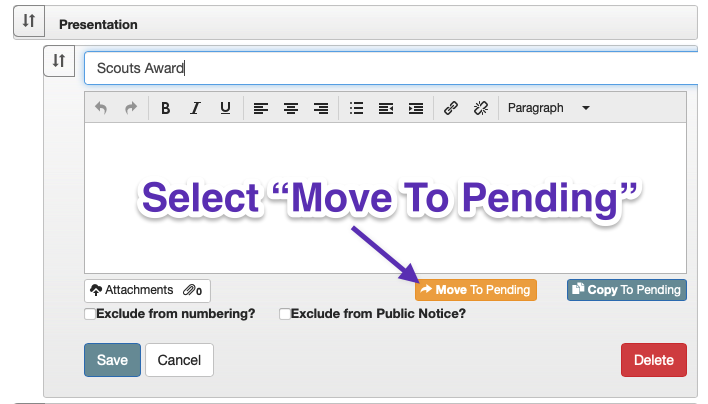 Once expanded, simply select the "Move To Pending" button. You will see a pop-up asking you to confirm. Select the "OK" button to proceed.

You'll see a yellow confirmation notification in the upper left corner to let you know that the move was complete.
What Gets Moved?
When you copy or move an Agenda Item, everything associated with that item is sent to pending. This includes the title, description, attachments, as well as any Agenda Items that were children (aka nested under) the item.
Where Do Moved/Copied Agenda Items Go?
Once you have moved or copied an Agenda Item, you can find them under the "Pending Agenda Items" which can be found under "Tools".

How To Copy An Agenda Item
The process is the same, the difference is that the original Agenda Item is left within your Agenda. Simply expand the Agenda Item you wish to copy and select the "Copy To Pending" button.

Now that the "Pending Agenda Items" are open, you'll see everything that has been copied and/or moved into this area.
HOW To Insert An Agenda Item
We've covered how to move or copy an Agenda Item into the Pending Folder, but how do you move that Agenda Item into another meeting.
Select or Create Your Other Event
Select the Agenda tab
Select the "Tools" button
Select the "Pending Items"
Select the Agenda Item you wish to move
Select the "Move To THIS Event" button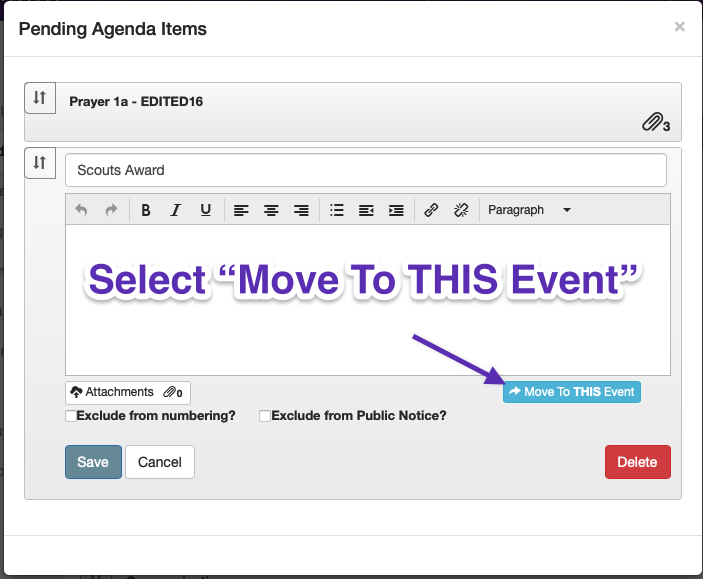 This will move your Agenda Item to the bottom of your current Agenda. To move it higher on the list, simply select the handle on the left and drag it where it fits in the Agenda.